Gustav Klauke GmbH, Remscheid, Germany
Part of the Greenlee division of the U.S. group Textron Inc.
Klauke are a leading European manufacturer of high quality products for the electrical, plumbing and heating industries.
Elecrical applications include a wide range of interconnection products and an extensive combination of cutting and crimping tools.  Products are developed in their extensive research and development facilities in Remscheid, Germany and produced in their own state-of-the-art factories in Germany and Slovakia.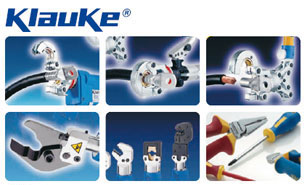 Cable Terminals –
tubular
angle tubular
compacted cable sleeves
insulated
many special application types.
Materials –
copper
aluminium
nickel
stainless steel
Specifications –
German
British
French
American
ISO 9001 Certified
Crimping Tools –
mechanical
hand-hydraulic
electro-hydraulic both battery and mains electricity powered.
The most recent addition has been a new range of 18V lithium tools
Cable Cutting Tools –
mechanical
hand-hydraulic
electro-hydraulic
also both battery and mains electricity powered.
The new lithium-ion battery tools cut copper cable up to 105mm diameter
Hand Tools –
cable strippers
cutters
1000V inslulated tools
pliers
screwdrivers