Greenlee Textron, Rockford, Illinois, USA
Subsidiary of Textron Inc.
Worldwide market leader in professional grade tools for installing wire and cable.  From holemaking and cable/conduit bending to test and measurement, Greenlee outperforms the competition every time.
Greenlee have supplied the electrical industry for over 70 years  and have a policy commitment to producing world beating products for the global market, distributed through it's worldwide distribution network.
At The Cable Tooling Company we specialise in Greenlee holemaking tools – hole punches, step drills,  'Nail Eater' wood drill bits and volt testers.  We offer the widest range of Greenlee products from stock in the UK.
We are also able to supply other products from the vast Greenlee range on request.  Due to the success and quality of Greenlee products we are continually adding new items to our range.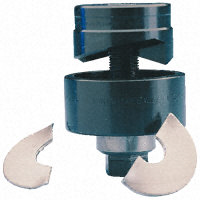 Greenlee products stocked include:
Round Standard
Knockout Punches
Slug-Buster Punches
Slug-Splitter Punches
Square and Rectangular Punches
Special Shape Punches
Punch Kits
Hydraulic Punch Drivers
Draw Studs
Drive Nuts and Spacers
Kwik Stepper Step Bits
Fish Tapes
Nail Eater Wood Drill Bit
Cable Strippers
Volt testers